PEGASUS
Before putting prototypes of automated vehicles into serial production, manufacturers must prove their safe and reliable functioning according to socially accepted standards.
In order to validate automated driving functions it is essential to test their functionality in a great variety of different traffic scenarios. Doing this in real traffic would cause huge amounts of time and costs. Statistics estimate a necessary amount of approximately 100 million to 1 billion testing kilometers due to the very low frequency of deadly traffic accidents. Plus, every adaption to standard functionalities again requires this extensive validation. Therefore, new methods of validation need to be designed.
The German automotive industry agrees on the need of new consistent forms of testing and validation for highly automated driving functions.
Therefore, the project PEGASUS was founded to address these topics. The goal is to create new generally accepted and consistent validation and approval methods for automated driving functions until mid-2019. The 17 project partners from science and industry will define the state of the art methodology to validate new functions and apply the results to the highway chauffeur, a functionality for highly automated driving on motorways.
The main project goals are to
define a consistent methodology to test and validate automated driving functions in simulation, on test benches and in real settings,
develop a consistent and flexible tool chain to safeguard automated driving functions.
include these tests at an early point of development, and
design an overall method for safeguarding highly automated driving functions for all manufacturers.
Our contribution
fka develops a database of relevant traffic scenarios. We generate and harmonize data from various sources (field tests, accident databases, simulations etc.) and process these with a consistent process chain. With the help of cluster analyses of the specific scenarios we then derive testing specifications for the approval of highly automated driving functions.
The overall goal of the database is to collect the relevant traffic scenarios which normally occur during the validation of new functions by driving many test kilometers and thus prove the functional safety more efficient. Thanks to this database, in future validation processes the tested functionalities can then be applied directly to these critical situations.
Half-time event & symposium
On the 8th and 9th of November 2017 the half-time event and an international symposium took place at the Institute for Automotive Engineering (ika) in Aachen, where all project partners presented their interim results. An audience of international specialists in the field of safety assurance for automated driving learned all about the latest project results and discussed the current project activities. With a high number of visitors from industry and research, interesting lectures and a lively exchange of views, the event was a great success. The fka illustrated on the basis of an example how the processing chain of the database works and how this process can be used by project partners.
Impressions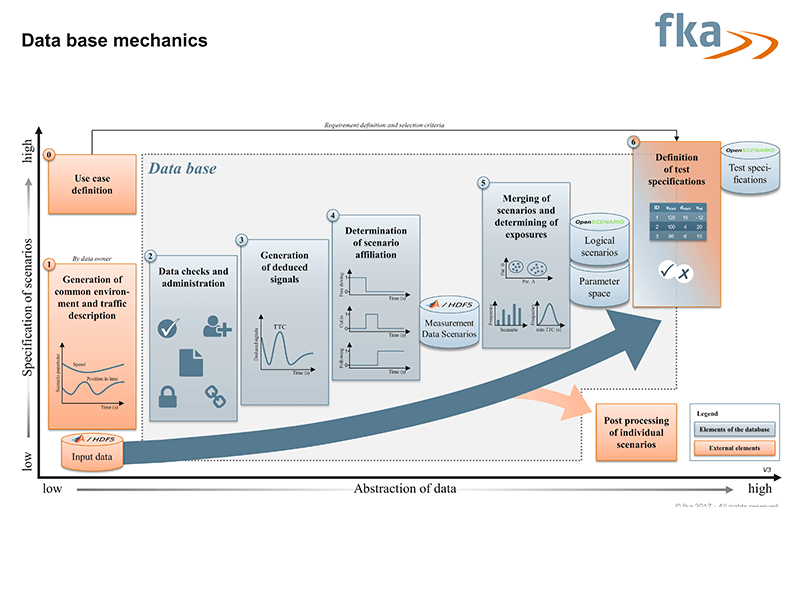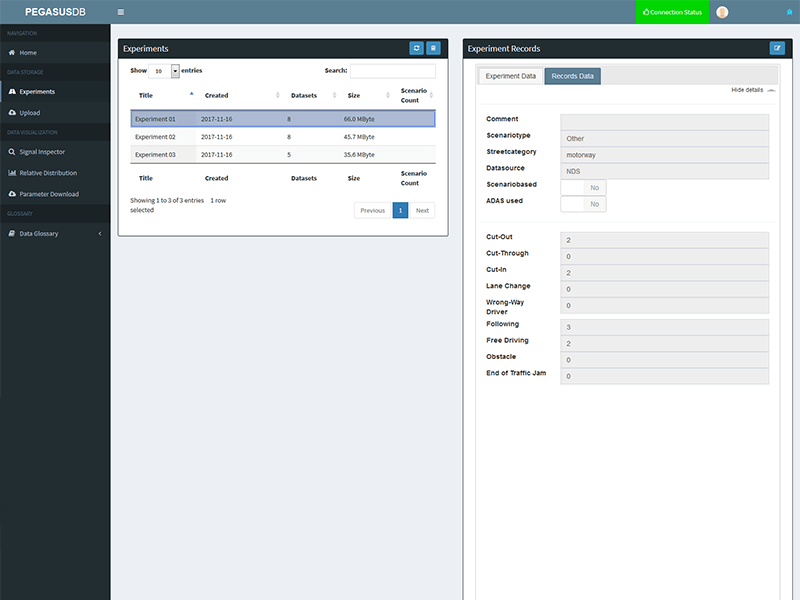 Press releases
08.11.2017: The PEGASUS research project – securing automated driving effectively